Core Temperature Thermometer
Testo 106 – The compact food
thermometer
The core thermometer testo 106 is especially fast and robust. Its small handy shape means it is always close to hand and ready for use. Thanks to its very thin and robust measurement tip, it is excellently suited to core temperature checks in gastronomy, hotels, large kitchens, supermarkets etc. The dishwasher-safe TopSafe protects the instrument from dirt, water and impact.
The testo 106 is comform to HACCP as well as EN 13485. If required, upper and lower limit values can be stored in the instrument; as soon as these values are violated, audible and optical warning signals are given. This alarm function and the automatic final value recognition facilitate measurement and support you in recognizing and interpreting measurement values quickly and correctly.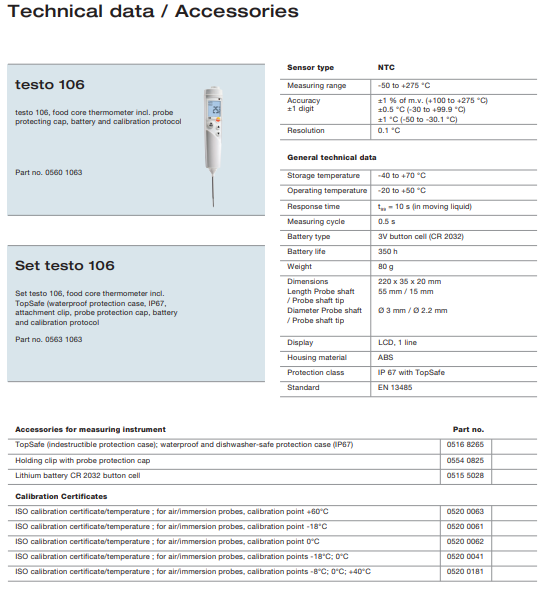 Temperature measurement in food management
As a restaurateur, you want to serve your guests fresh and tasty dishes without any contamination by germs. You ensure this quality through two principles:
Compliance with the cold chain for refrigerated foods
Sufficient heating of cooked dishes
Penetration & IR thermometers available are:
Models: Testo 106 food kit, Testo 103, Testo 104, Testo 104IR, Testo 106, Testo 108, Testo 826 T2, Testo 905-T1 and many mini penetration/contact  thermometer.
Description:
The time problem as a challenge in food management
In comparison to large kitchens (e.g. in hospitals, company canteens, catering operations), smaller restaurants and hotel kitchens rarely have a specially designated person with the responsibility for food safety.
This means: The head chefs and/or owners are themselves responsible for compliance with the HACCP principles and hygiene standards.
Because core tasks take up virtually all the operational capacity, HACCP tasks have to be carried out alongside them. Measuring technology solutions in this area should therefore be easy to use and reliable. Ideally, practical features can even considerably reduce the time needed for the respective tasks. For example, the acquisition of an automatic monitoring system pays off in reduced personnel costs.
The following typical tasks are established in restaurants, kitchens & canteens:
Checking incoming goods: Have the raw materials or semi-cooked products always been adequately refrigerated?
Storage check: Are storage rooms and cold storage cells permanently refrigerated without any failures?
Control of meal production: Have all cooked products been sufficiently heated? Have all cold dishes and desserts been sufficiently cooled? Does the cooking oil still meet the required quality or does it need to be replaced?
Food service: Are the dishes still hot enough before being served?